Louis Williams - REALTOR®
About Louis
As the CEO for The Williams Team, it is my mission to see that your Real Estate Transaction meets and exceeds your expectations and that you are treated honestly and fairly. I work hard to insure that my team has the best possible resources, the best possible training, and the best possible attitude in order to be the professional you expect.

During my years in both college and professional football I learned the value and necessity of discipline, perseverance, training, attitude and team work in order to succeed at whatever I did. These principles, along with integrity, honesty, and putting my clients first, have earned me the honor of being among the top 1/2% of Realtors in the Greater New Orleans Area. In just over eight years my business has grown to employ eight highly skilled people, and has had nearly ONE HUNDRED MILLION DOLLARS in sales.

My Team and I work hard to earn your business, and your respect. Our Mission is is to fulfill dreams through consulting, communicating and caring for the needs of others in order to improve and impact lives. We don't just want to sell real estate, we want to help you fulfill your dream. Client by Client we are "Changing the Face of Real Estate".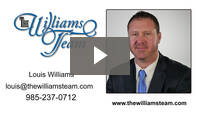 Louis Williams
Keller Williams Realty4550100
Tel: 985-237-0712